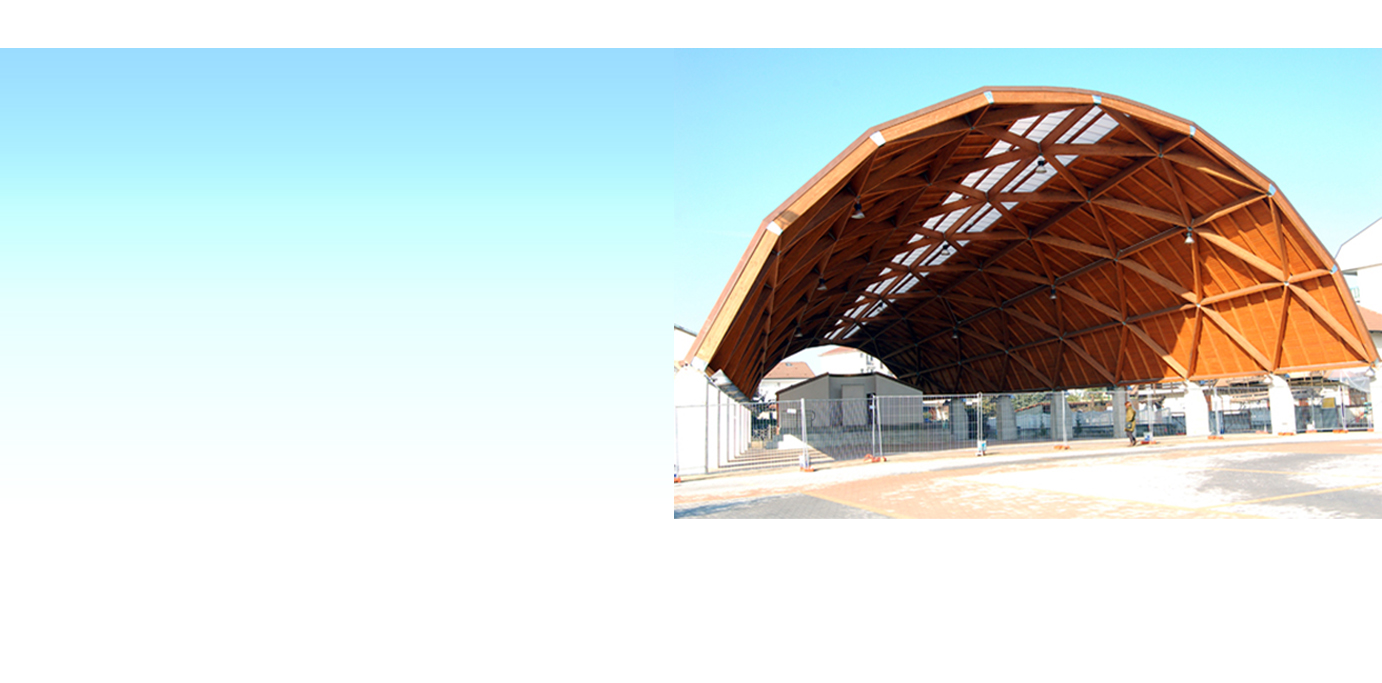 Company
Il legno: qualcosa che ci appartiene... che è parte della nostra identità...
WOOD SYSTEM INTERNATIONAL Srl has been working for approximately 30 years in the laminated wood construction sector (structures, roofing and tensile structures). Its target customer ranges from public authorities to private organisations, with special focus on sports facilities, for whom the company manufactures lightweight roofing structures for tennis courts, five-a-side football pitches, basketball courts, swimming pools, bocce (Italian bowls) courts and multi-purpose sports halls, with variations in the building sector, in particular for places of worship and collective meetings, civil buildings and commercial and industrial areas.
Towards the middle of the nineties, with competence and confidence, the company initiated a project that enabled WOOD – STEEL connections to be simplified in compliance with regulations and the rules of building science, also aimed at distinguishing the company with respect to the vast array of companies operating in the sector.
In this way, a connection system was developed which was first patented in Italy but rapidly approved at a European and then United States level. "SPACEWOOD" a spatial reticular solution comprising straight trusses in laminated wood and spherical radial and/or plate-shaped steel connection joints.
« SPACEWOOD » structures enable completely free span roofing structures to be built without the use of supports, which range from a simple sun shade gazebo with reduced dimensions to the roof of a stadium with a span of more than 250 m.
This unusual product is further enhanced by the fact that, regardless of the architectural design, the wooden parts are always straight and of contained dimensions, particularly in length, enabling them to be effortlessly transported in every part of the world and easily stored and handled during construction work.
The great versatility of the patented WOOD SYSTEM enables structures to be built which range from a small gazebo up to roofing structures with spans of more than 250 metres.
The thirty years experience in the construction of laminated wood industry, the propensity to continuous research and technological innovation has brought the Wood System International Srl to invest their resources even in the field of green building, embracing the ecological principles following the concepts of sustainable development . In view of these recent and important developments, the company has been developing new patents with the aim of extending their knowledge and professional knowledge throughout the national territory and globally, both for the construction of multi-storey residential nature, commercial and industrial (P-Lam patent) that for space grid structures (Spacewood patent, on the market for about 20 years).
The International Wood System Srl has therefore decided to initiate a policy of development of a network of collaborations with designers, associations, consortia, universities, ministry of economic development and established research in the wood construction sector, industry technical journals, manufacturers of X-Lam panels and glulam beams, including those actually marketing and use these materials. All this to offer the construction market a range of solutions that combine environmental, economic efficiency, durability and speed of assembly in compliance with the regulations for the structural analysis and related checking in « ELASTIC RANGE » especially for high seismic risk areas and high wind pressure.
With our innovative system P-Lam for the realization of ex novo wooden buildings, the following results are obtained in the presence of the earthquake:
1- Protection of human lives and their patrimony
2- Ready accessibility of the immediate post-earthquake buildings
3- rapid reconstruction with reliable and competitive costs
4- seismic risk prevention plan « economically sustainable »
5- Materials used environmentally friendly (95% wood), detachable and 100% recyclable
6- own wood Weight equal to 1/5 of its own weight of the concrete, thus lower transportation costs and foundation works
7- Charges for safety on site very limited view of the drastic reduction in installation time (equal to 1/4 compared to traditional systems in concrete and masonry)
8- Prefabricated system to 100% which can be manufactured in Italy and around the world
9 – the patent application Deposit in 148 countries worldwide
10- The construction system P-Lam is suitable for the construction of residential buildings, hospitals, schools, places of worship, commercial and industrial centers, etc..sia type of single-storey and multi-storey, of course, is competitive even for buildings in hazardous areas sismco zero
11- With an excellent internal and external insulation and the installation of photovoltaic panels, heat pumps and wind systems, you can reach the quality standard of Passive House, while minimizing energy consumption costs and electromagnetic fields. You always get the maximum comfort.
"L'architettura è una scultura abitata."
Constantin Brâncuşi